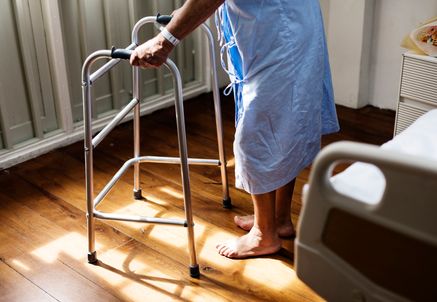 Living to a ripe old age should be a cause for celebration. Alas, it was not so for Usha John, once a sprightly, hard-working and fiercely independent IAS officer. After retirement, John lived in her bungalow in the upmarket Hauz Khas of Delhi, aided by a few housekeepers. But over the years, they deserted her. "In March, I received a call from one of her neighbours who informed that they had not seen any activity in John's house for a long time," says Mathew Cherian, chief executive of HelpAge India, a non-profit working for the rights of the elderly. "When we visited her house, we discovered a frail figure." She was barely 19 kg. Cherian rushed her to the All India Institute of Medical Sciences (AIIMS), where the doctors informed that she had hardly eaten anything for two to three months and was suffering from cancer. The 85-year-old spinster died in the hospital a month later. Some relatives of her sister, who lives in Mumbai, came to complete hospital formalities.

Eighty-two year old Urmila Devi has two sons who are doing quite well for themselves. Yet she is living out her dotage in an old-age home in Kanjhawala in north-west Delhi. Her sons live in the same city, but no one has come looking for her in the past three years, say attendants at the old-age home, run by Triveni Devi Charitable Society. "Since the death of my husband 10 years ago, I have developed some mental disorder and tend to forget eating or taking medicines on time," says Devi, flipping through the photographs from her younger days, kept carefully by bedside. "My children would often speak harsh words for being a burden on the family." She left home after one such tiff with her son's family.

Stories such as these abound – of loss and loneliness in the country, which is undergoing a rapid transformation — both socially and demographically.

Improved healthcare worldwide has increased the average lifespan of an individual in the last few decades. India is no exception. The Census of India states that life expectancy of an Indian, 52 in 1975, today is beyond 67 years for men and women about 70 years. There is, however, a downside to the success story. Increased longevity means there are more elderly people than before. From 56.5 million in 1991, the number of elderly (those above 60) has increased to 103.2 million in 2011 — the largest ever in the country's history.

According to the Union Ministry of Statistics and Programme Implementation (MoSPI), by 2050 a graying India will have a quarter of its population to look after. A sizeable portion of them would be 80 and above and a large number of these would be widows, as women tend to live longer.

Most of this ailing, frail population would be living in villages. Many other countries are witnessing similar demographic change. But the rapidly ageing population is a matter of grave concern for India because of two reasons.

One, attitude towards the elderly is changing. Though India's traditional piety requires children to look after their parents, nuclear families have little time or resources for their ailing parents. Increased migration from rural areas also forces the younger generation to leave their elders alone back home. Finances are stretched and healthcare expensive. Worse, nearly 90 per cent of the elderly do not receive social security coverage, like pension, medical insurance or any other kind of post retirement benefit due to their preoccupation in informal sectors. They either continue to work beyond retirement age or suffer from neglect and alienation.

Two, there is a certain sense of apathy on the part of the government about the growing acuteness of the problem and it is ill-prepared for the mounting responsibility. This is evident from the programmes undertaken on social welfare by different governments over the years, where precious little is elder-focused.

As the number of ageing population continues to swell, the cost of hospitalization is assuming challenging proportions. Apart from the cost, the emotional trauma of tending a hospitals often compel people to look for home healthcare services.

In these times, home healthcare and elderly care giving in India is a viable alternative that might be worth considering. As nearly a million people are now availing the home healthcare services, it has proven to be a successful choice to long term nursing facilities in the country.

Growing old on our own can be really tough. Things that we could do with ease tend to become more and more difficult. In this context, home care and home healthcare services can be viable substitute for the elderly or sick. Assisted living, where there is care and there is compassion, can help the older generation to live with a sense of security and dignity.